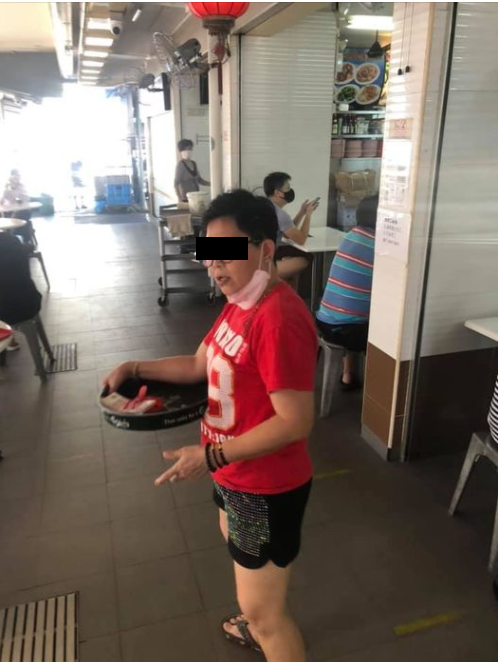 Coffeeshop Auntie Wrongly Accused of Not Wearing Mask Properly, Was Earlier Confronting Delivery Rider for Riding E-Bike into Coffeeshop
On Monday (16th Aug), a photo of a coffeeshop auntie not wearing a mask, was posted in the Complaint Singapore Facebook group, by "Janson Leong", who accused the auntie of scolding vulgarities when he told her nicely to wear a mask.
Netizens responding to the Facebook post accused the auntie of being irresponsible, and that she should be reported to the authorities.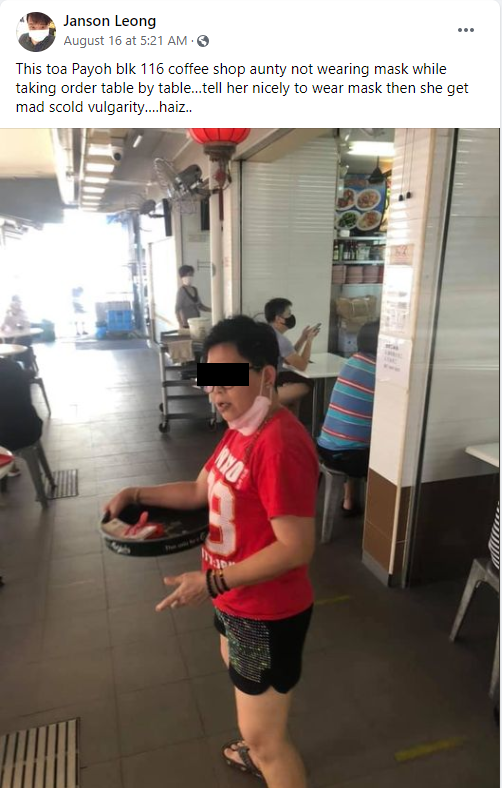 However, one netizen "Linda Wang" had come forward to clarify what really happened that day. According to Linda, The auntie had an arguement with a Grab delivery rider who rode his e-bike through the walkway in the coffeeshop, and nearly collided with a customer.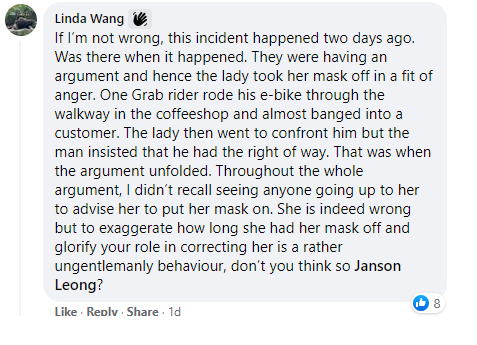 Linda explained that the auntie went to confront the Grab delivery rider who insisted he had the right of way. This was when the auntie took down her mask in a fit of anger. However, Linda did not recall anyone telling the auntie to put her mask back on.
Linda says that while the auntie is wrong, it is rather ungentlemanly of "Janson Leong" to exaggerate that she had scolded vulgarities when told to put back her mask.
This matter was confirmed by reporters who interviewed the coffeeshop auntie Madam Tan (54-years-old) who works at the coffeeshop at Block 116 Toa Payoh Lorong 2.
Speaking to reporters, Madam Tan was surprised to learn that she had been wrongly accused of not wearing her mask properly while serving customers, and hopes that the public should know of the truth.
Editor's Note: Do you have a story to share? Please use our
Submission Form
or
email us
.
If not, why not give us a
'LIKE'
Ping me on WhatsApp