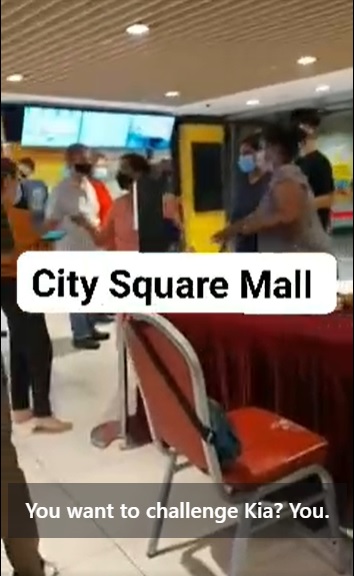 Self-Entitled Karen at City Square Mall Scolds Auntie Manning Safe Entry Check-in, Calls Her an Old Bitch
No matter no irritating and troublesome SafeEntry check-ins can be, it is still currently a mandatory requirement in shopping malls.
One such woman somehow got really worked up with checking in at a shopping mall, that she turned her anger towards the elderly auntie manning the SafeEntry check-in counter.
In a video shared by Raven Qiu in Facebook Group Complaint Singapore, a woman could be seen shouting in anger at a elderly auntie who was attending to other people at the SafeEntry check-in counter at City Square Mall.
The woman who appeared to have been angered by the fact that she was unable to check-in with her mobile phone, started verbally abusing the elderly auntie, calling her an "old bitch".
At one point, the woman also claimed that the elderly auntie was challenging her, and that there would be consequences for doing so.
The SafeEntry check-in staff stationed at shopping malls and other public areas are there to ensure that the proper regulations are being followed. They should not have to deal with the abuse from over demanding visitors.
Editor's Note: Do you have a story to share? Please use our
Submission Form
or
email us
.
If not, why not give us a
'LIKE'
Ping me on WhatsApp