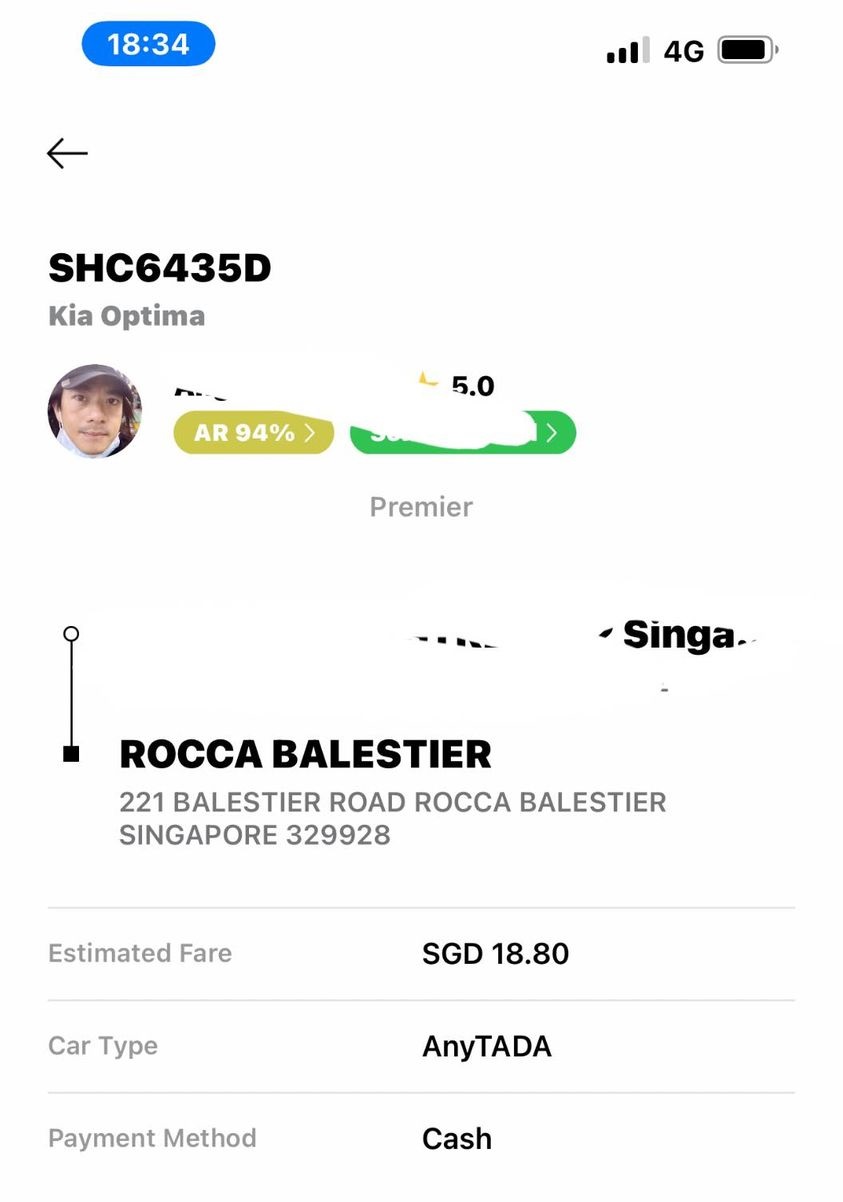 Taxi Driver Repeatedly Harasses Female Passenger, Wants Her to Remove Mask, and Visit Her Home
On Sunday (25th Apr), Estella booked a taxi using the Tada app, to pick her up from her place to ROCCA Balestier condominium.
Upon boarding the taxi, the driver started asking her rather intruding questions like how old she was, and if the place she was staying was a HDB rental, and if she was staying alone.
While Estella found it was odd for the taxi driver to be asking these questions, she replied saying that she was staying in a HDB rental with her children.
Wanted Her to Remove Mask to See Her Face
The next thing, the taxi driver asked her to remove her mask, to which Estella said No. The taxi driver then insisted that Estella should remove her mask, as he wanted to see exactly how she looked like. The taxi driver then tried to make Estella remove her mask, by saying things like "now no more COVID restrictions, and he got no COVID", and "When you are eating, you wear mask?".
After Estella refused, the taxi driver gave up, and started another conversation. The taxi driver asked how the design of Estella's HDB rental flat was, and where her room was located in the flat, and how if her neighbour's unit is near to hers.
Taxi Driver Wanted to Visit her Home to "See See"
Estella, who at this point was feeling very uncomfortable, replied that she was a strong relationship with her neighbour. Right after this, the Taxi driver asked Estella if he could visit her home, as he wanted to go "see see and go".
Feeling that her safety was compromised, Estella messaged her cousin who was staying at the ROCCA Balestier condominium about her ordeal. Her cousin replied that she would wait for her at the roundabout.
Upon reaching the destination, Estella's cousin who was waiting at the roundabout, confronted the taxi driver about asking to go visit Estella's home.
The taxi driver said that he has never seen a HDB rental house, and just wants to have a look. When Estella's cousin asked why he kept asking her to remove her mask during the ride, the taxi driver said it was because he wanted to look at her full face.
After the confrontation, the taxi driver tried returning the $19 taxi fare, but was rejected by Estella and her cousin.
Not the First Time Doing This
After Estella shared her experience in the Complaint Singapore Facebook Group, another female Ashwini Sivaraja commented that she had also gone through the same ordeal with the same taxi driver.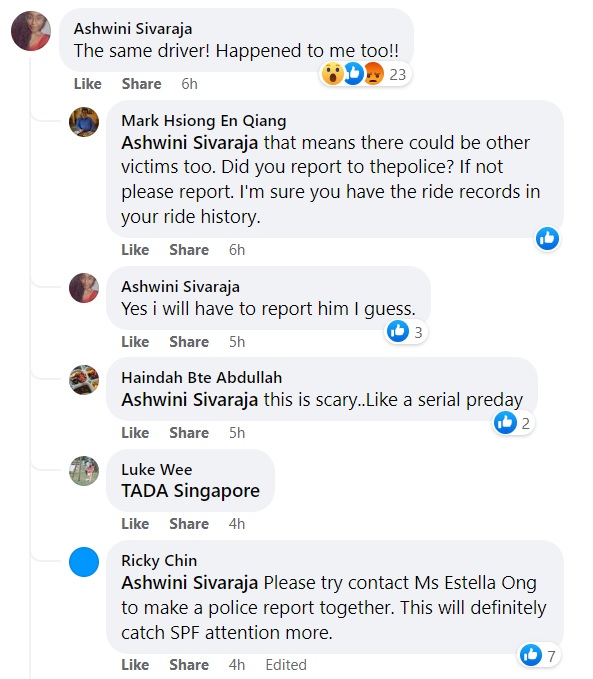 Editor's Note: Do you have a story to share? Please use our
Submission Form
or
email us
.
If not, why not give us a
'LIKE'
Ping me on WhatsApp