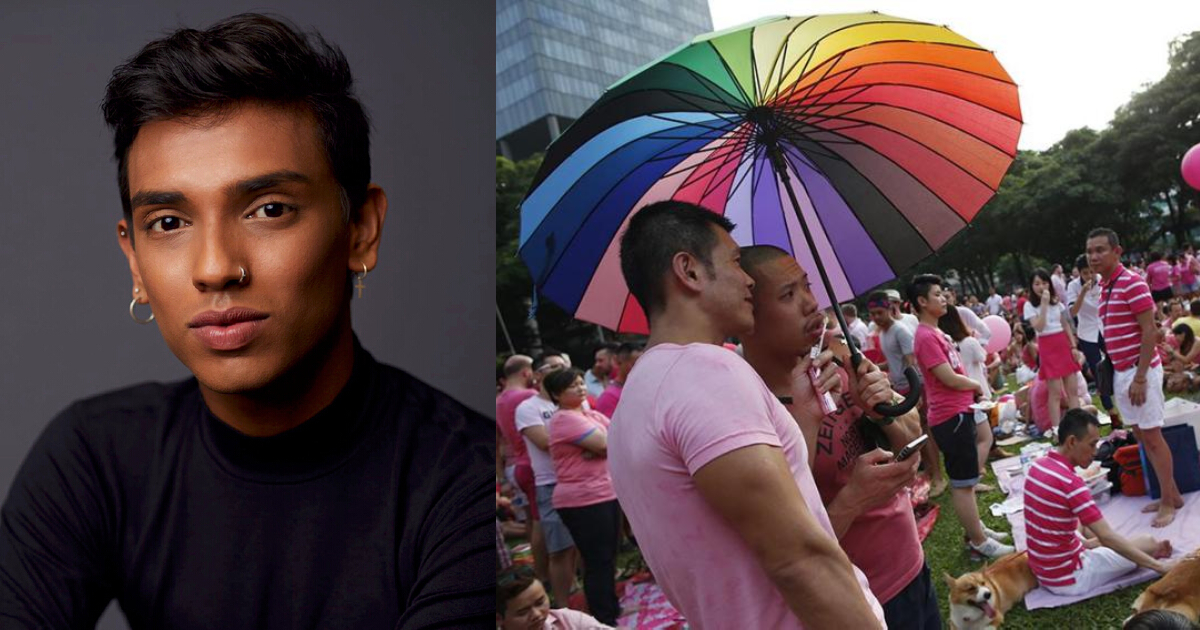 Queer Singaporean Indian Says 377A Repeal Is Victory Only for Chinese Gays
Sharvesh Leatchmanan, who is the co-founder of Minority Voices – a platform for calling out racism and identifies as a queer Indian, said the repeal of S377A is "only a win for cis Chinese gays, not all queer people".
Tweeting in light of PM Lee's National Day Rally announcement on the government's decision to repeal section 377A, Sharvesh said he did not care even if the law is repealed.
He further alleged that Pink Dot is run "mostly by upper class Chinese gays who've only ever cared about their circumstances" and he wonders what they are going to fight for now.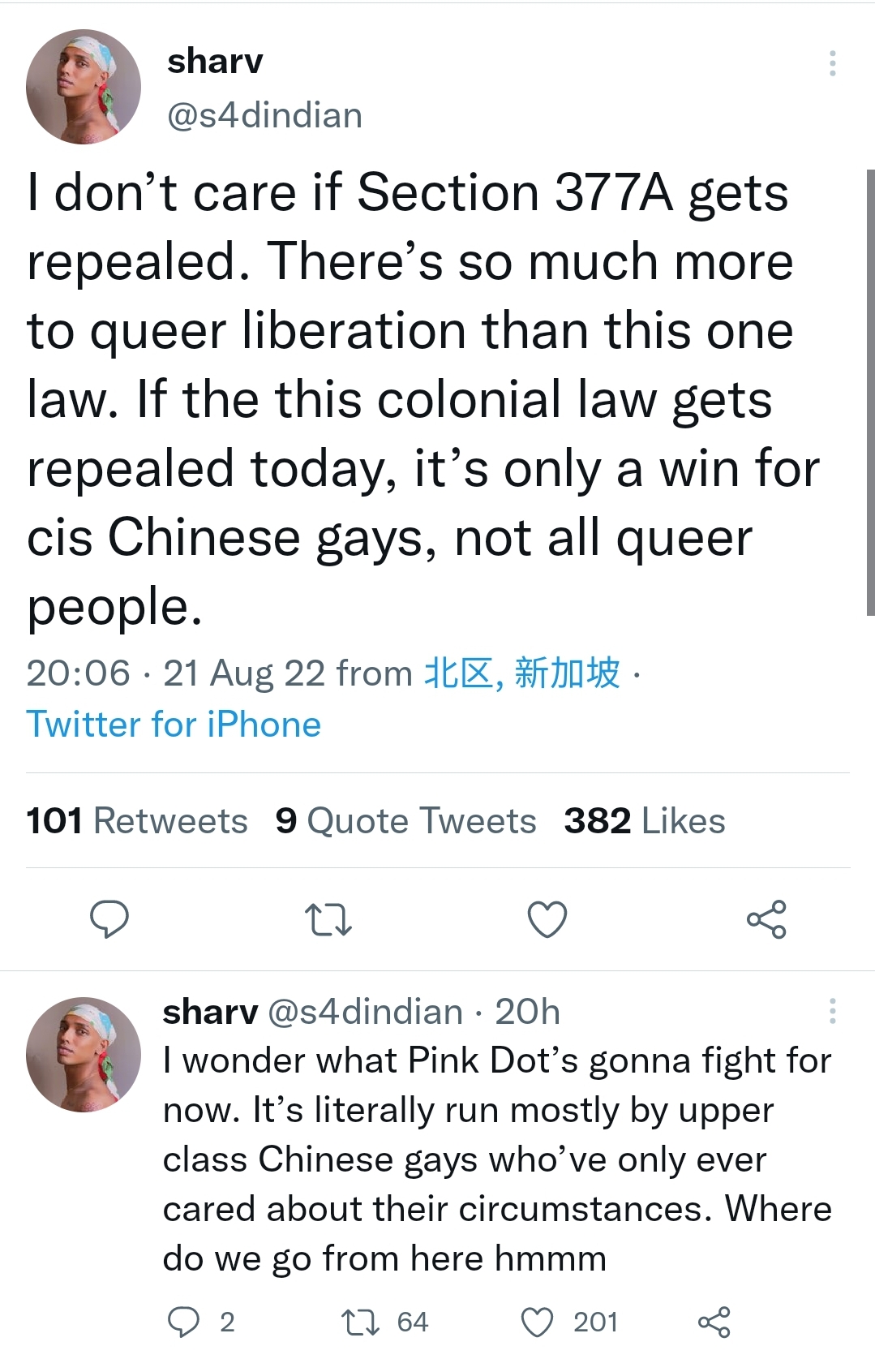 So even repeal is discriminatory?
LGBTQ groups have been pushing for the abolishment of section 377A because they felt the law discriminates against gays. Yet here is an LGBTQ individual who sees that same repeal of the law as representing discrimination. How ironic is that?
As much as this sounds absurd, Sharvesh's comments reflect existing divisions within the LGBTQ community.
On a previous occasion, Sharvesh hit out at Chinese gays for being racist towards Indian queers and said they do not deserve rights.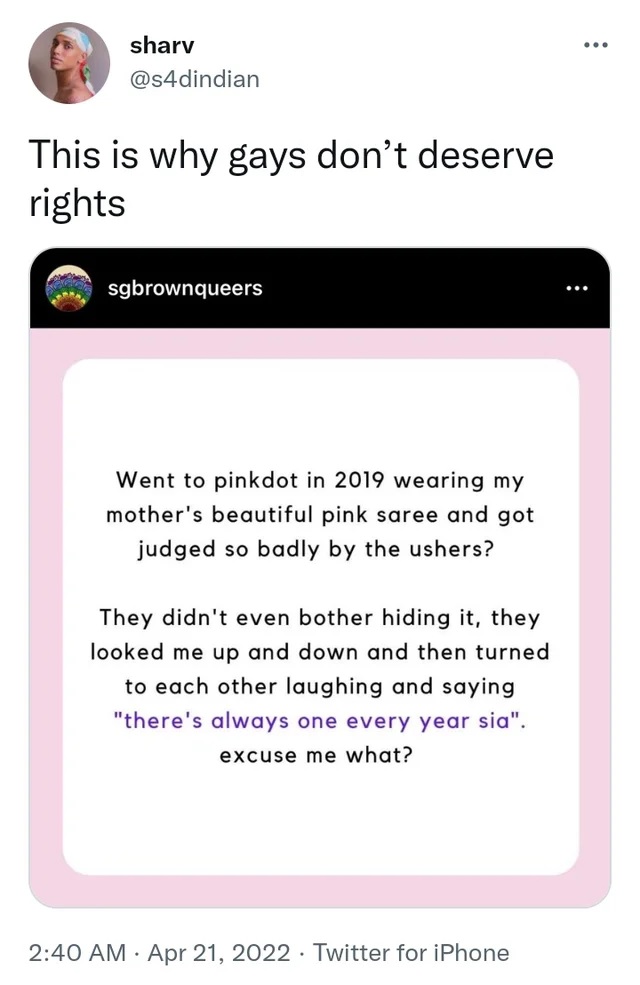 Even as repeal is widely seen as a move which will bring about greater inclusivity in society, the LGBTQ community is ironically a picture of fragmentation. It would be hypocritical of the LGBTQ community to be calling for an end to discrimination when within gay circles individuals are voicing out racism, class-divide, body-shaming and ageism.
While many LGBTQ Singaporeans hailed the repeal as a historic victory for the community, LGBTQ groups emphasised that their fight for equality will not stop at repeal. More than what they consider to be equality however – marriage, housing, adoption rights etc., the LGBTQ community needs to first and foremost address divisions within their community or they would prove only to be the very characterisation of what they warn society against.
Editor's Note: Do you have a story to share? Please use our
Submission Form
or
email us
.
If not, why not give us a
'LIKE'
Ping me on WhatsApp