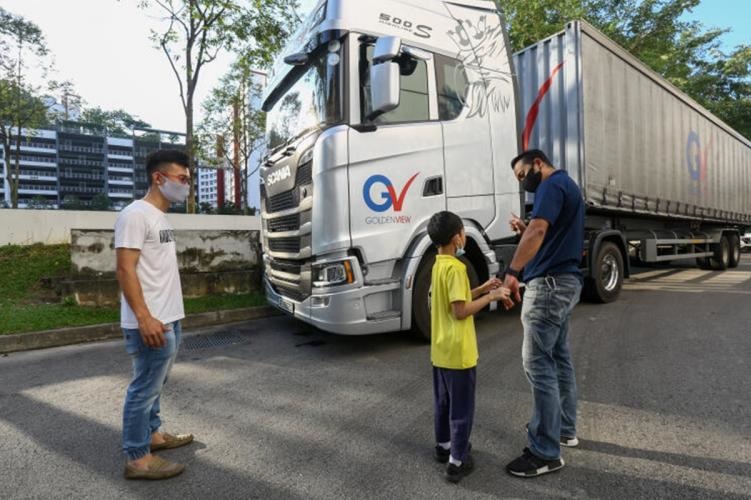 Father Brings his 8-year-old Boy Suffering from Autism to Look at Trucks Everyday, Actions Touched Owner of Transport Company
An inseparable father and son duo were often seen hanging around a prime mover truck parked on the side of the road. The owner of the truck encountered the father son duo yesterday (22nd Sep), and after chatting with the father, got to know that his 8-year-old son was suffering from autism, but has a deep passion for heavy vehicles like trucks.
The owner of the truck Raymond Lee (35-years-old), who is also the Managing Director of Goldenview Transport Pte Ltd, said that the father of the child 38-year-old Mohamed would fetch his son from the childcare centre everyday, and bring him to the industrial area to look at the heavy vehicles. At times, they would spend so much time there, that Mohamed would be late for his shift.
Upon knowing this, Raymond invited the young boy to come sit at the driver's seat of his Scania S500 truck to satisfy his curiosity, and take some photos for remembrance.
The parents of the 8-year-old boy were very thankful of Raymond's kind gesture to let their son experience what it was like sitting inside his favourite truck. It was something that they would never be able to accomplish on their own.
Raymond added that the father's patience and fatherly love for his son really touched him that day, and that the father fully deserves his upmost respect. Raymond said that he was only doing what he can to satisfy the boy's wishes and make him happy.
Editor's Note: Do you have a story to share? Please use our
Submission Form
or
email us
.
If not, why not give us a
'LIKE'
Ping me on WhatsApp