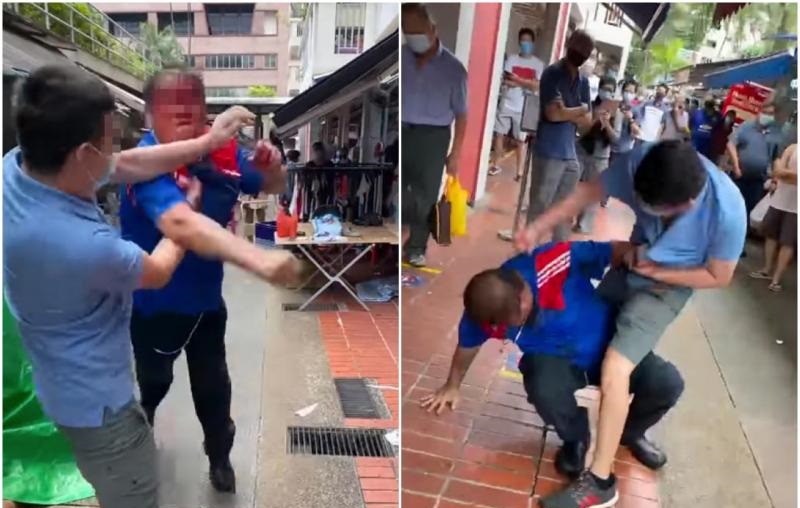 Fight Broke Out Between Street Vendor and Passer-by Over Borrowing a Table
A video of a fat man with a bloodied face, fighting a slimmer man wearing a blue polo-shirt had recently gone viral on Facebook and other social media platforms. Many were puzzled as to what had led to the vicious fight between the two men.
As it turns out, the incident which happened on Sunday (5th Dec), at the bottom of HDB Block 254 Serangoon Central, was due to a dispute over the borrowing of a table.
The fat man who was passing by the area, wanted to borrow a table belonging to a street vendor (the man wearing the blue polo-shirt) to put some things, but was rejected, as the street vendor was packing up to leave.
According to an eye witness, the matter escalated into a fight, when the fat man vented his anger at the street vendor, scolding him with vulgarities, pointing a middle finger, and shoving him into the wall.
The street vendor reacted by smashing a bowl onto the fat man's head, resulting in a bleeding injury on his head. In the viral video, the street vendor could be seen repeatedly raining blows on the fat man afterwards.
The police have confirmed that two men aged 33 and 47 were arrested and charged for affray. Investigations are ongoing.
Editor's Note: Do you have a story to share? Please use our
Submission Form
or
email us
.
If not, why not give us a
'LIKE'
Ping me on WhatsApp