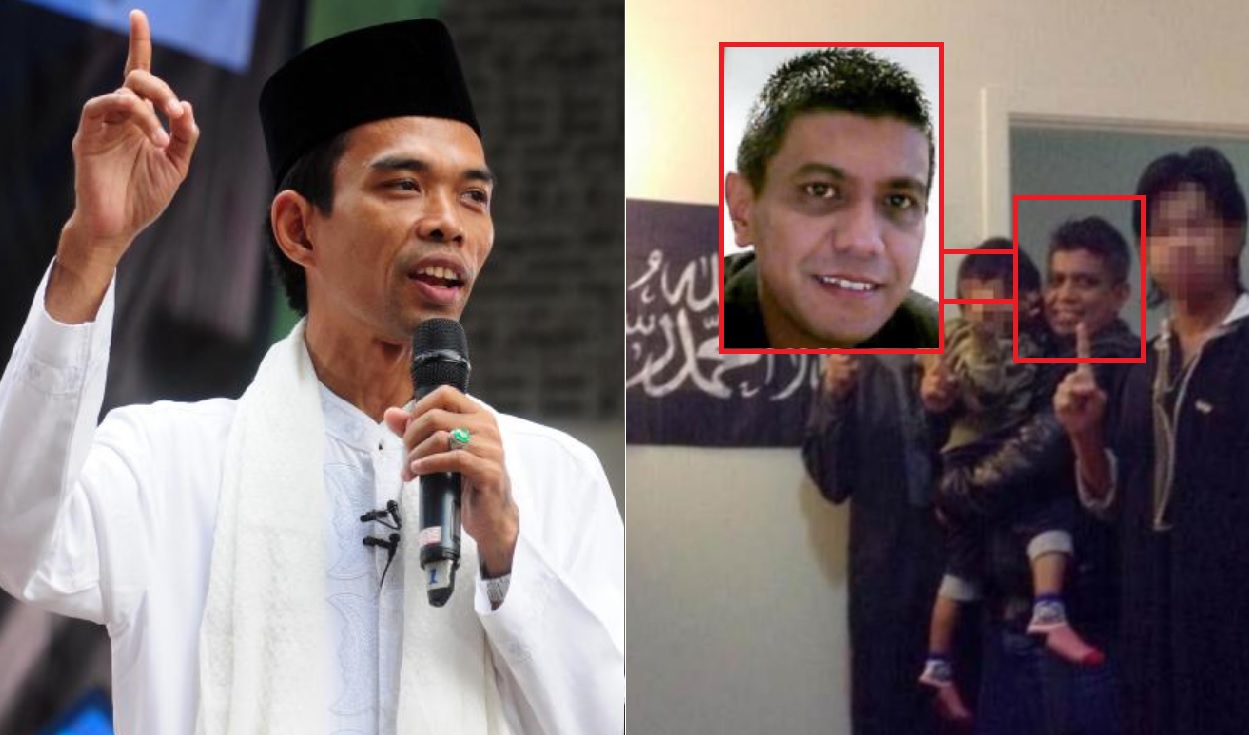 Ex-ISA Detainee Zulfikar Shariff Defends Ustadz Abdul Somad, Says His Extremism Is 'Different'
A 17-year-old boy who was detained under the ISA is a fervent supporter of ISIS and Indonesian preacher Ustadz Abdul Somad (UAS). UAS was recently denied entry to Singapore as he is known for his extremist teachings. He preached that suicide bombings are legitimate and denigrated other faiths. In the same vein, the boy was also said to have watched many videos on suicide bombing.
Instead of rejecting these radical ideas, Facebook page "Fikrah Siyasah" expressed support for UAS. It claimed that supporting an extremist like UAS is entirely different from supporting the extremist group ISIS:
"As far as I know, there is nothing to indicate that UAS had anything to do with ISIS."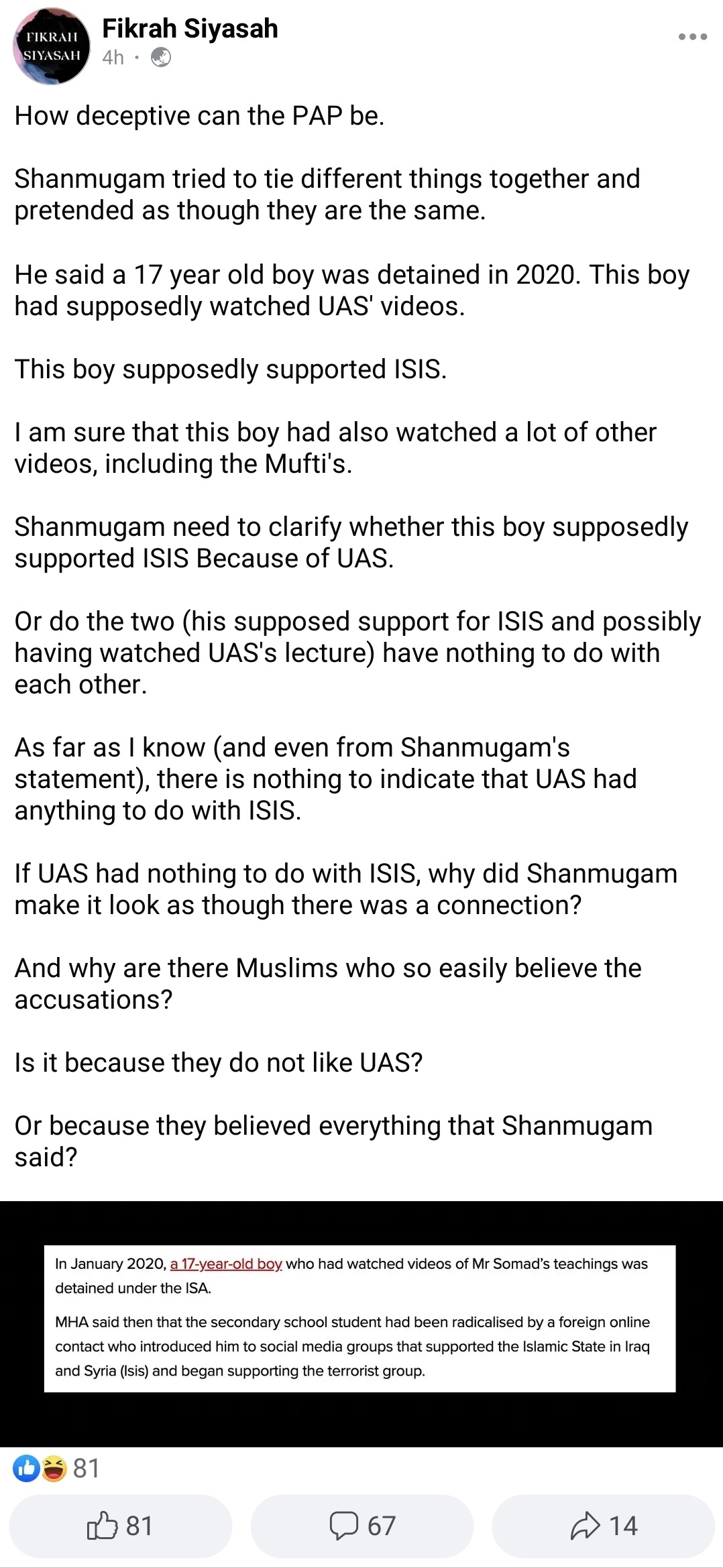 Here are how UAS' extremist teachings led to the boy's radicalisation:
In 2017, when the boy was 15 years old, he posted defaced images of President Halimah Yacob on social media and called on ISIS to behead her for supporting Singapore, which he viewed as an "infidel" state. The labelling of non-Muslims as "infidels" (disbelievers) and enemies of Islam is what UAS has been preaching in his sermons. Evidently, this is dangerous thinking which paves the way for one to justify attacks against anyone or any state perceived to be "infidels".
As far as we know, the extremist views of UAS and ISIS are no different. Both are supportive of terror acts like suicide bombings. Both glorify the act as a noble sacrifice, even if it means killing and harming innocent lives. Both are crazy, irrational and extremist. The fact that the 17-year-old boy believes in UAS and ISIS shows that both have extremist ideas that align with each other. So, how are they different?
It is no surprise that "Fikrah Siyasah" openly supports extremism as the page is run by none other than Zulfikar Mohamad Shariff, a man who was detained under the ISA in 2016 for promoting terrorism and glorifying ISIS.
Who is Zulfikar?
Zulfikar bin Mohamad Shariff was a Singaporean known for his hardline and contentious views. He himself was radicalised as early as 2001 after reading jihadi material.
He has been supportive of terrorist groups such as Al-Qaeda and JI, and advocated Muslims taking up arms in Afghanistan after the September 11, 2001 terrorist attacks in the United States.
He once described Osama bin Laden as a better Muslim than some of Singapore's Malay leaders, and suggested that Jemaah Islamiyah (JI) plotters were motivated by the presence of the United States military in Singapore.
In 2002, Zulfikar fled to Australia but continued his pursuit of radical ideology.
These are a few of his social media posts endorsing extremist beliefs:
Zulfikar called for an Islamic caliphate or "khilafah", which is a system of leadership governing a territory under Islamic rule. He said: "Only the khilafah has the right to declare military action on nations that attack Muslims." The establishment of an Islamic caliphate is one of the key ambitions of the ISIS terror group.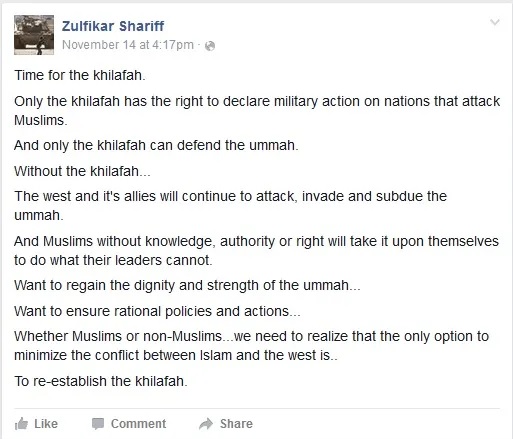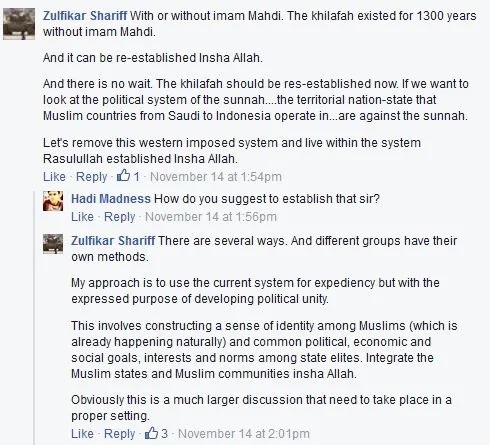 It was also clear Zulfikar was supporting ISIS' advances:

Zulfikar was subsequently arrested under ISA since 2016. He had become an Australian citizen but lied to ICA about his citizenship when applying for a Singapore passport. He has since returned to Australia where he continued his radical activism on social media towards Singaporean Muslims.
Does Zulfikar still support terrorism? Why is he making excuses for these extremist people? Does it mean he is ok with UAS fanatics who threaten to bomb Singapore like 9-11? Is he ok with insulting people of other religions? We must not allow people like them to ruin our social fabric. We must stand against such extremist views so that they will not have devastating real-world consequences.
Editor's Note: Do you have a story to share? Please use our
Submission Form
or
email us
.
If not, why not give us a
'LIKE'
Ping me on WhatsApp