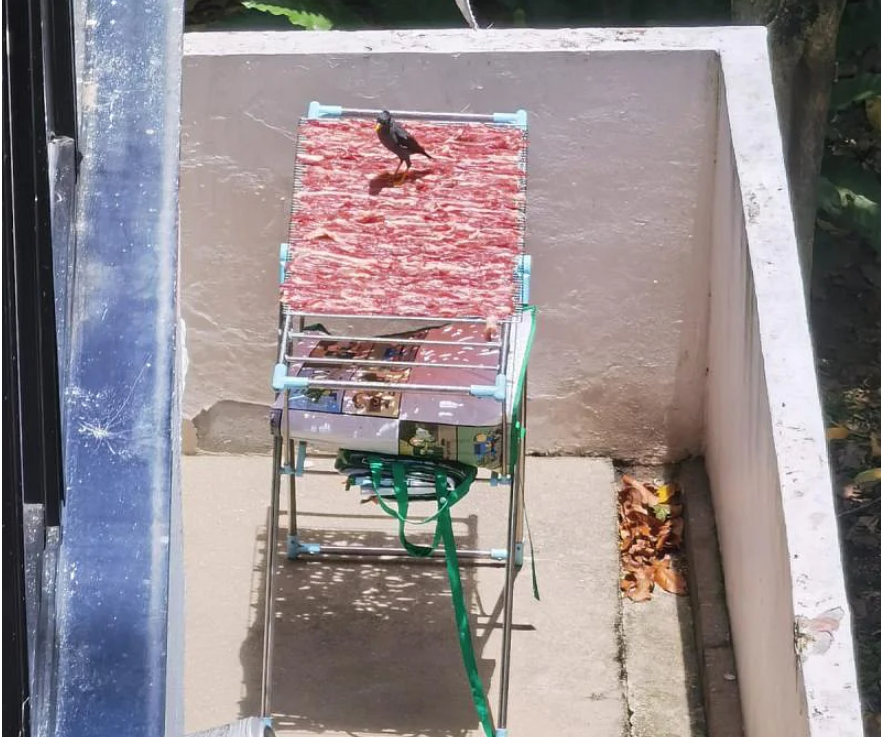 Beach Road Resident Caught Making Bak Kwa With Clothes Hanger Rack
6 years ago, mainstream media reported on a rather unhygienic practice of drying meat pieces using a clothing rack in a block of HDB flats located in Beach road. The practice has since disappeared, after news reports of the dirty home made bak kwa (barbeque pork slice) went viral.
Recently, this dirty means of making home-made bak kwa appears to have resurfaced again, when residents at Block 6 Beach Road managed to snap photos of what appears to be thinly cut meat slices being dried under the sun on a clothing rack. The scene was rather disgusting, as crows could be seen pecking at the raw meat, with blood dripping all over the floor.
Reporters arriving at the scene did not see the clothing rack with the meat, however, they saw what appeared to be make-shift barbeque equipment, consisting of a burner and a wire mesh being set up at the second floor of the HDB block. They believed that it was likely the same resident who is preparing to cook the dried pork slices on the clothing rack.
Editor's Note: Do you have a story to share? Please use our
Submission Form
or
email us
.
If not, why not give us a
'LIKE'
Ping me on WhatsApp