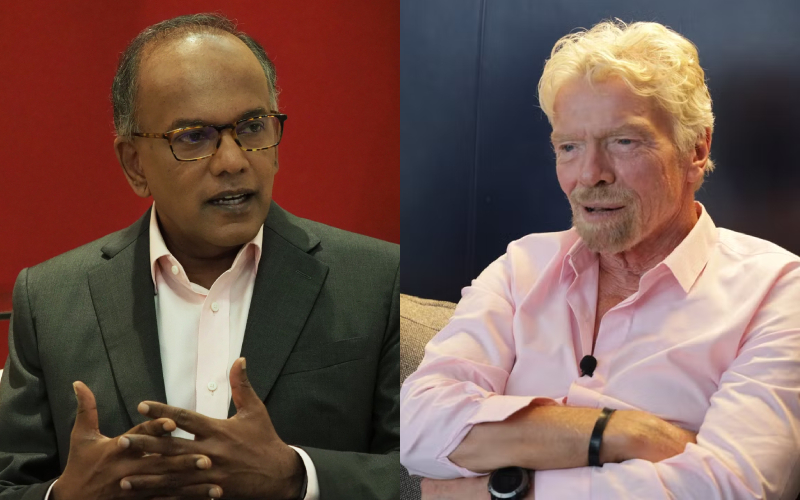 Not Just A Billionaire: Why Shanmugam Picked Richard Branson to Debate With
Some local activists have asked why Minister Shanmugam is not interested to debate with them but instead invited Richard Branson to a live debate on the death penalty issue.
They are missing the point.
Richard Branson is not just a billionaire. He is a billionaire who has massive influence in the business community.
Richard Branson is founder of "Business Leaders Against the Death Penalty"
Last year Branson launched a campaign "Business Leaders Against the Death Penalty" to eliminate the death penalty.
19 other company executives including Ben and Jerry's and Tiffany signed the declaration. Since then, many more — Salesforce CEO, Tony Fernandes, COO of Facebook, CEO of Bayer, CEO of Unilever, President of the Body Shop, Founder and CEO of 23andMe, Founder of Y Combinator, plenty of top lawyers, ethical finance funds and dozens of other companies have also joined the movement.
Every one of those signatories can put pressure on Singapore. These people can easily raise funds to hire an army of lawyers, analysts, researchers, etc. to do the PR they need.
Every one of them has a massive personal and professional network. Y Combinator is practically the heart of Silicon Valley. Think about discussing drug prices with Bayer, getting venture capital or ethical investment firms into Singapore etc. These are becoming a lot harder as it is, without any debate.
Then, they have a whole bunch of NGOs that will help with media coverage to make sure every mistake, every scandal, every secret comes out in international media. Singapore will look like Myanmar if they choose.
Singapore risks being lumped in with the backwards US southern states and a bunch of poor countries as the last places on earth to get rid of the death penalty.
Singapore is a good target for Richard Branson
Singapore is an important country in the Asia region. What we say and what we do draws the attention of many countries despite our size.
People like Richard Branson and his PR team would find moving Singapore to change our laws a big victory internationally because it would make it easier for them to work on the remaining countries with the death penalty.
As a small island reliant on international investment and trade, we cannot afford to let one man mobilise an entire business community to alienate us.
We need to stand firm in our policies while protecting our international image. How much are we willing to go to defend our country's reputation and business interests?
Editor's Note: Do you have a story to share? Please use our
Submission Form
or
email us
.
If not, why not give us a
'LIKE'
Ping me on WhatsApp