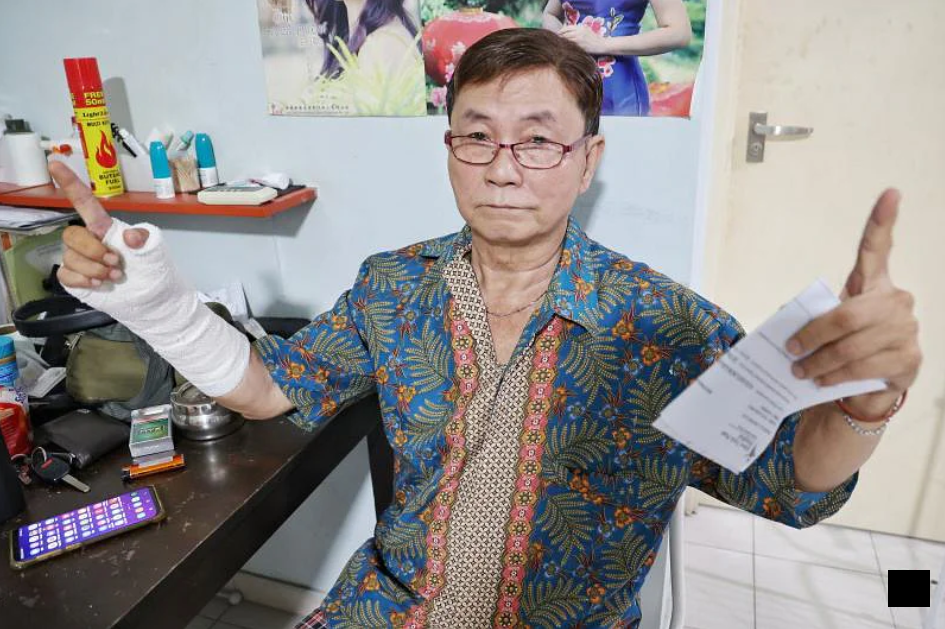 Elderly Man in Yishun Attacks Neighbour With Metal Bar, After Neighbour Challenged Him to Fight Downstairs
Two neighbours in Yishun, got into a heated argument over noise, ends up fighting each other with weapons.
This incident happened yesterday (15th Nov), at around 1.49am, at Block 162 Yishun Street 11. The fight is believed to have been between Mr Pang (61-years-old), a private hire driver living at the 13th floor, and another Mr Pang (72-years-old), a taxi driver living at the 14th floor.
According to the younger Pang, the elderly Pang and his family frequently sang karaoke at home, and played the guitar late into the night. The elderly Pang's family is also accused of throwing rubbish down the block, including used sanitary pads, curry, and eggs, which sometimes ends up dropping into the younger Pang's home.
The elderly Pang family stopped their inconsiderate behaviour, after the younger Pang made a police report.
However, last night, the elderly Pang and his family restarted their usual routine of loud karaoke singing and playing of the guitar past 1am. This was when the younger Pang shouted towards the elderly Pang's home, and challenged him to a fight downstairs.
The younger Pang was shocked when he realised that the elderly Pang had turned up outside his home, with a metal bar in his hand. The elderly Pang quickly charged at the younger Pang and attacked him with the metal bar. The younger Pang's two sons who saw this, immediately came out to stop the elderly Pang, quickly subduing him and taking the metal bar away.
The younger Pang later called the police, who arrived shortly to seal off the crime scene, and interrogate both Pangs.
The police are currently investigating the case.
Editor's Note: Do you have a story to share? Please use our
Submission Form
or
email us
.
If not, why not give us a
'LIKE'
Ping me on WhatsApp