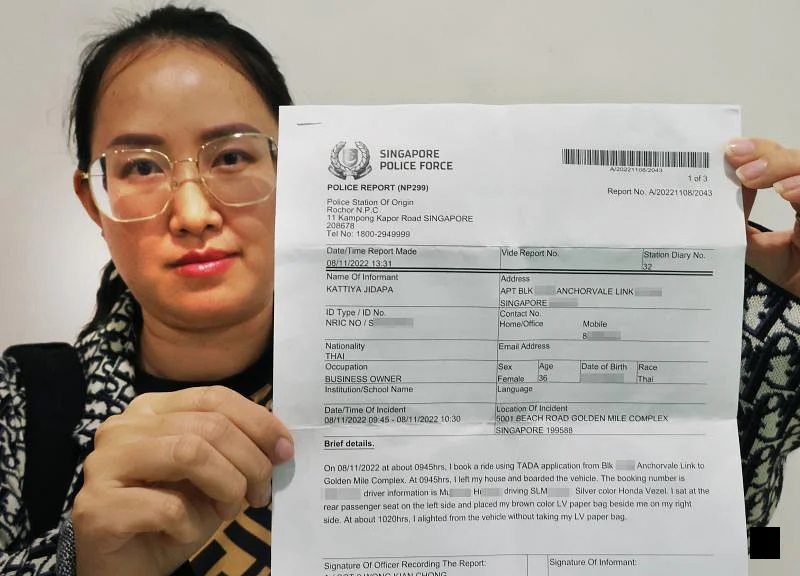 Woman Makes Police Report After Her LV Paper Bag Containing $30k Goes Missing Onboard TADA Ride
A woman claimed that a LV (Louis Vuitton) paper bag containing over $30,000 in cash, as well as a pair of gold ear rings, that she left behind onboard a TADA ride, had went missing, prompting her to make a police report.
This incident happened on Tuesday (8th Nov) at around 10am, at an area near Golden Mile Complex.
Miss Jidapa Kattiya (36-years-old) who runs a branded goods shop at Golden Mile Complex, says that took a TADA ride from her home in Sengkang to her shop at Golden Mile Complex. It was not long after she alighted that she realised that she had left a LV paper bag containing cash and jewelry onboard the TADA ride.
However, after contacting the TADA driver, the driver claimed that he did not see the LV paper bag. According to Miss Jidapa, the LV bag contained a pair of LV ear rings that she purchased on behalf of her client, as well as $30,000 in cash she was going to use to remit to Thailand to buy some amulets.
TADA responded by saying that they have advised their driver to make a police report as well.
Editor's Note: Do you have a story to share? Please use our
Submission Form
or
email us
.
If not, why not give us a
'LIKE'
Ping me on WhatsApp